Produsul a fost adaugat in cos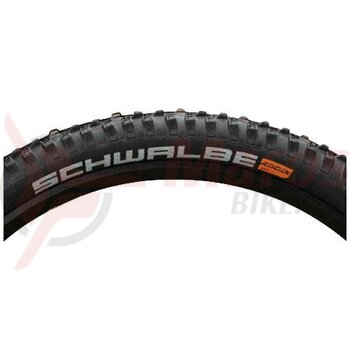 Cauciuc pliabil SCHWALBE Big Betty Evo - 27.5x2.40/650B/62-584 HS608 ADDIX Ultra Soft - TLE
COD PRODUS: 11654164
279.20 Lei
Cauciuc pliabil SCHWALBE Big Betty Evo - 27.5x2.40/650B/62-584 HS608 ADDIX Ultra Soft - TLE
349.00 Lei
279.20 Lei
pretul include TVA
In stock
In stoc
Livrare imediata
Cauciuc SCHWALBE Big Betty Evo - 27.5x2.40/650B/62-584 HS608 ADDIX Ultra Soft - TLE Pliabil
Descriere:
- The number one tire for aggressive riders.
- Perfect cushioning with high stability and robustness.
- Compared to the Super Trail carcass even better puncture protection.
- No other carcass combines dynamics with stability and safety like this.
- For anyone who attaches great importance to Downhill performance and for whom a pure Downhill tire is too heavy.
- Extremely stable
- Five layers of tissue protect the center
- APEX in combination with four carcass layers and the Snakeskin layer protect the side
- Very flexible thanks to the patented Turn-Up construction
- Foldable tire
- Tubeless Easy


Specificatii:

- Model: Addix Big Betty
- Tire type: Foldable
- Inch size: 27.5 x 2.40
- Etrto size: 62-584

Do not wait any longer and buy Schwalbe Big Betty Super Trail Addix Soft EVO SnakeSkin! At bikeinn all our Wheels and tyres products have the full manufacturer warranty of the brand Schwalbe. Buying in our bike store, you can benefit from the advantages belonging to our bike community. Place your order now and receive Schwalbe Big Betty Super Trail Addix Soft EVO SnakeSkin as soon as possible at home.
Lasa un comentariu sau pune o intrebare
Ai întrebări?
Contacteaza-ne!
LUNI-VINERI 09:00 - 18:00
SAMBATA 09:00 - 15:00
intrebari@marosbike.ro
MarosBike.ro lucrează în permanenţă asupra acurateţei informaţiilor din acestă prezentare. Rareori acestea pot conţine anumite inadvertenţe: fotografia este cu caracter informativ iar unele specificaţii pot fi modificate de catre producător fără preaviz sau pot conţine erori de operare. Pentru anumite clarificări vă rugăm să ne contactaţi.