Produsul a fost adaugat in cos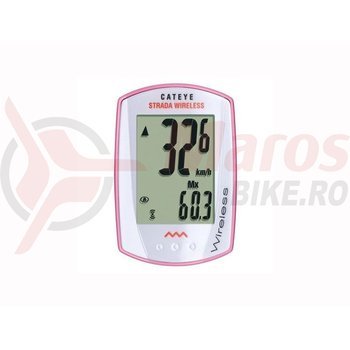 Kilometraj Cateye Strada Wireless RD300W roz
COD PRODUS: RD300W
233.75 Lei
Kilometraj Cateye Strada Wireless RD300W roz
275.00 Lei
233.75
233.75 Lei
pretul include TVA
La comanda
La comanda
Livrare 1-2 zile
Packed with functions but free from wires, the Strada Wireless epitomizes power and elegance.

The Strada Wireless boasts the largest screen and numbers in its class. Thanks to the new CatEye ClickTec™ interface, you can switch among seven modes by simply pressing the bottom of the computer face — easy to do, even on rough terrain. Your selected mode displays at the bottom of the screen, while your current speed appears at the top in huge, easy-to-read numerals. An up/down arrow tells you how your current speed compares to your average speed.

The innovative FlexTight™ bracket mounts quickly, securely and tool-free to virtually any handlebar or stem. The new tool-free wheel sensor mounts effortlessly to most road and mountain forks.
Strada Wireless: Ride fast, ride sleek, ride wireless.
Instruction manuals, quick start documents, and product videos are available here. 

Functions
Current speed
Maximum speed
Average speed
Odometer
Trip distance
Trip distance 2
Elapsed time
Clock

Features
Slim design
Universal FlexTight™ bracket
New universal speed sensor
Programmable odometer
Auto start/stop
Pace arrow
Dual tire size
Auto power-saving modeClickTec™ user-friendly interfaceFlexTight™ universal mounting bracket

Specifications
Fits almost any handlebar or stem: 22-31.8mm Fits almost any fork: 11-55mm
Batteries: CR2032 x 2 (1 each for head unit and sensor)
Front fork speed sensor
Transmission distance up to 70cm - 27 inches
* se livreaza in ambalaj original
Lasa un comentariu sau pune o intrebare
Ai întrebări?
Contacteaza-ne!
LUNI-VINERI 09:00 - 18:00
SAMBATA 09:00 - 15:00
intrebari@marosbike.ro
MarosBike.ro lucrează în permanenţă asupra acurateţei informaţiilor din acestă prezentare. Rareori acestea pot conţine anumite inadvertenţe: fotografia este cu caracter informativ iar unele specificaţii pot fi modificate de catre producător fără preaviz sau pot conţine erori de operare. Pentru anuminte clarificări vă rugăm să ne contactaţi.