Produsul a fost adaugat in cos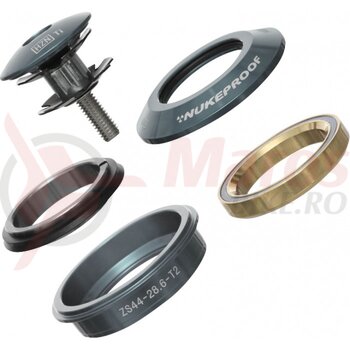 Cuvete Nukeproof Horizon Grey partea de sus ZS44-28.6 - T2
COD PRODUS: 753679
165.00 Lei
Cuvete Nukeproof Horizon Grey partea de sus ZS44-28.6 - T2
165.00 Lei
pretul include TVA
To order
La comanda
Livrare 1-25 zile
Cuvete Nukeproof Horizon Grey partea de sus ZS44-28.6 - T2
Cuvetele se achizitioneaza separat partea de sus si partea de jos.
Nukeproof headsets are now available as separate top and bottom cups allowing you to easily choose the options you require. This version uses high-end bearings with Ti coated races and stainless balls.The bearing is ABEC 5 certified which means that it has passed tests which include ID and OD tolerances, roundness of ball, trueness of faces surfaces as well as noise testing at high RPM.These bearings have been designed and tested for the harshest of UK winters so if you want bearings that wont let you down then these are the ones to get.These headsets have been revised, improved and expanded for optimum fit, sealing and performance as well as compatibility with a wide range of fork and frame standards. Featuring sealed angular contact bearings, split alloy crown races and upper and lower bearing cups CNC-machined from proprietary aluminium, the headset offers the optimum balance of light weight, strength and durability for performance across all riding disciplines.All models feature a super tough black hard anodised finish, with laser-etched graphics.A top cap and star nut are also included.Nukeproof are so confident in the performance of these bearings that they are offering a 5 year warranty so you can be rest assured your purchase will be a good one.Replaceable angular contact bearingsLaser-etched graphics (including code)Split Alloy Crown Race for easy installation/removalHard Anodised FinishInternal and external optionsTop cap and bolt suppliedModel:EX34-28.6 - T1, Headtube Internal Diameter: 34mm ZS44-28.6 - T2, Headtube Internal Diameter: 44mm ZS49-28.6 - T3, Headtube Internal Diameter: 49mm
Lasa un comentariu sau pune o intrebare
Ai întrebări?
Contacteaza-ne!
LUNI-VINERI 09:00 - 20:00
SAMBATA 09:00 - 15:00
intrebari@marosbike.ro
MarosBike.ro lucrează în permanenţă asupra acurateţei informaţiilor din acestă prezentare. Rareori acestea pot conţine anumite inadvertenţe: fotografia este cu caracter informativ iar unele specificaţii pot fi modificate de catre producător fără preaviz sau pot conţine erori de operare. Pentru anumite clarificări vă rugăm să ne contactaţi.