Produsul a fost adaugat in cos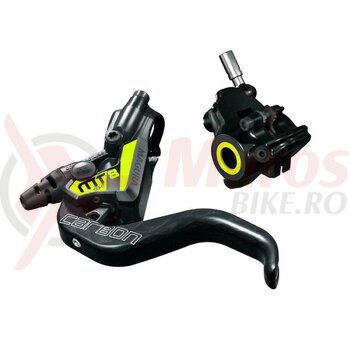 Frana Magura MT8 SL FM, 1-deget HC-Carbon lever blade
COD PRODUS: 2701632
1476.00 Lei
Frana Magura MT8 SL FM, 1-deget HC-Carbon lever blade
1476.00 Lei
pretul include TVA
To order
La comanda
Livrare 1-32 zile
Frana Magura MT8 SL FM, 1-deget HC-Carbon lever blade
Suitable for mounting left or right, 2,200 mm tubing length, single brake, Flatmount Caliper, incl. accessories (PU = 1 piece)
MT8 SL FM, 1-FINGER HC-CARBOLAY LEVER BLADE
THE PERFORMANCE LIGHTWEIGHT WITH FLATMOUNT MOUNTING STANDARD
With the MT8 SL FM, ambitious cross-country racers can brake right when they want to – at the last moment. The MT8 SL FM accommodates brake discs up to 160 mm, making it just as powerful and wear-resistant as the MT8 SL, on which it is based.
CARBOTECTURE SL® FM - Developed for racing: Thanks to the Carbotecture SL® brake master and the 1-finger carbon HC lever blade, the MT 8 SL FM is a real lightweight. Carbotecture SL® is a composite material that is not only light but also extremely resistant thanks to its embedded carbon fibres.
1–FINGER HC CARBON LEVER BLADE - The popular 1-finger HC carbon lever blade is used on the MT8 SL FM ex works. It's lighter and stiffer than its aluminium counterpart, enabling you to get maximum performance out of your bike.
LIGHTWEIGHT PERFORMANCE - The 2-piston calliper of the MT8 SL is forged from one single piece. The result? Despite its outrageously low weight, the MT8 offers the highest braking power and stability of the 2-piston family.
FLATMOUNT - Many mountain bike frames offer little space in the rear frame triangle – and that's why the flatmount standard is used. No matter which frame you drive or will drive – the MT8 SL won't let you down.
Model year: 2019
Tubing length: 2,200 mm
Weight: 185 g
Material housing: Carbotecture SL®
Reach Adjust: 3 mm allen key
Color: master black, lever carbon, caliper black
Accent color: neon yellow
Recommended rotor: Storm SL.2 160 mm (MT8 SL FM is compatible with Storm HC / CL, MDR-C / -CL rotors)
Scope of delivery: single brake incl. accessories
Mounting type
Flatmount
Application
Cross Country
Race
Marathon
Mounting site
Rear wheel
Brake type
Disc brakes
Lever blade type
1-finger HC lever blade
Tubing connection
Rotatable tube connection
Brake pad type
7.P
Material of lever blade
Carbolay®
PU
1
Ratio Adjust
No
Material housing
Carbotecture SL®
Reach Adjust
3 mm allen key
Gearshift compatibility
Shimano I-Spec I+II
SRAM Trigger
Flip Flop
Yes
Tubing length
2,200 mm
Model year
2019
Pistons
2 pistons
Weight
185 g
Color
Black
Neon yellow
Lasa un comentariu sau pune o intrebare
Ai întrebări?
Contacteaza-ne!
LUNI-VINERI 09:00 - 20:00
SAMBATA 09:00 - 15:00
intrebari@marosbike.ro
MarosBike.ro lucrează în permanenţă asupra acurateţei informaţiilor din acestă prezentare. Rareori acestea pot conţine anumite inadvertenţe: fotografia este cu caracter informativ iar unele specificaţii pot fi modificate de catre producător fără preaviz sau pot conţine erori de operare. Pentru anumite clarificări vă rugăm să ne contactaţi.