Produsul a fost adaugat in cos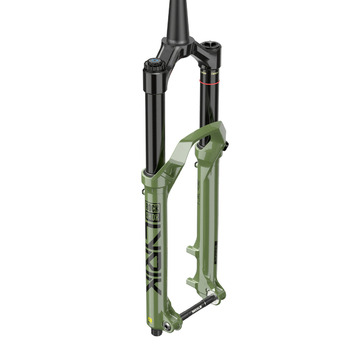 Furca telescopica RockS. Lyrik Ultim.Charg.3 RC2 29',GREE,160MM,44OFFSET,1.5'TAP,15X110
COD PRODUS: 2051701115
4935.00 Lei
Furca telescopica RockS. Lyrik Ultim.Charg.3 RC2 29',GREE,160MM,44OFFSET,1.5'TAP,15X110
6580.00 Lei
4935.00 Lei
pretul include TVA
To order
La comanda
Livrare 1-19 zile
Furca telescopica RockS. Lyrik Ultim.Charg.3 RC2 29',GREE,160MM,44OFFSET,1.5'TAP,15X110
Faster. More stable. Uncompromisingly efficient. The new Lyrik is ready for anything. The most versatile fork in the range features a redesigned chassis that is lighter but still offers the legendary performance and versatility of the Lyrik. The Lyrik Ultimate is packed with cutting-edge technology, including the new Charger 3 shock, ButterCup technology and the new DebonAir+ air spring. Let the Lyrik sing with a colour scheme we call Heavy Meadow, inspired by our favourite alpine passions. The new Lyrik Ultimate is finally here.
fork steerer 1.5 tapered
adjustment: external begin stroke rebound, low speed comp, high speed comp
suspension: Debon Air+
max. tyre diameter/max. tyre width: 732mm/81mm (27.5), 770mm/81mm (29)
max. rotor size: 220mm / min. rotor size: 180mm
crown material: forged, hollow aluminium
stanchion material: magnesium
stanchion material: 35mm tapered aluminium
Rock Shox
Article id: 2051701115
Secondary article number: 00.4020.694.015
EAN-code: 710845863387
Other
Additional details: * axle to crown: 571mm
* volume reducer: 0/5 tokens
Axle: thru-axle
Axle diameter (mm): 15
Axle length (mm): 110
Brand: Rock Shox
Compression rate: Yes
Damping: oil
Delivery contents:

fork
cap
2 bottom tokens
Maxle Stealth

Fork crown material: Aluminium aluminium hollow forged
Model identifier number: D1
Lower tube material: aluminium
Color / Decor: green
Offset (mm): 44
Rebound rate: Yes
Spring medium: spring
Spring travel adjustable: No
Spring travel max. (mm): 160
Stanchion tube material: magnesium
Steerer tube diameter: tapered 1.5 - 1 1/8
Steerer tube material: aluminium
Steerer tube type: A-head
Suitable tyre size (inch): 29
Type: cushioned
Manufacturer article number: 00.4020.694.015
Weight: 1.989 kg
Lasa un comentariu sau pune o intrebare
Ai întrebări?
Contacteaza-ne!
LUNI-VINERI 09:00 - 18:00
SAMBATA 09:00 - 15:00
intrebari@marosbike.ro
MarosBike.ro lucrează în permanenţă asupra acurateţei informaţiilor din acestă prezentare. Rareori acestea pot conţine anumite inadvertenţe: fotografia este cu caracter informativ iar unele specificaţii pot fi modificate de catre producător fără preaviz sau pot conţine erori de operare. Pentru anumite clarificări vă rugăm să ne contactaţi.