Produsul a fost adaugat in cos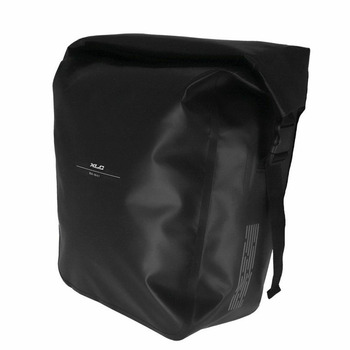 XLC single pannier BLACK, WATERPROOF 40X32X15CM
COD PRODUS: 2501702020
263.00 Lei
XLC single pannier BLACK, WATERPROOF 40X32X15CM
350.00 Lei
263.00 Lei
pretul include TVA
To order
La comanda
Livrare 1-18 zile
XLC Einzelpacktasche BA-W41
XLC single pannier, black, waterproof 40x32x15cm
The XLC Single Pannier Bag BA-W41 is a great waterproof pannier for city and trekking bikes. It is made of durable 600D TPU polyester material and has a capacity of 19.2 liters. The reflective stripes on both sides of the bag help you to stay visible and safe on the road. It comes with a shoulder strap, a laptop compartment, and a mesh zip pocket for easy access to your essentials. The bag is designed to fit 12mm stays. Whether you're commuting or going on a weekend trip, this bag has got you covered!

It is available as single pannier bag or as a set of two single pannier bags.
Single pannier bag for the rear carrier
Also available as a set of two single pannier bags
Made of 600D TPU waterproof polyester
Reflective stripes on front and backside
Comfortable to carry thanks to a shoulder strap
Laptop compartment
Zipped mesh pocket for easy access to your essentials
For 12 mm stays
Capacity: 19,2 ltr per bag
XLC
Article id: 2501702020
EAN-code: 4055149518295
Other
Additional details: Schultergurt
Brand: XLC
Delivery contents:

· Einzeltasche oder Set aus 2 Einzeltaschen
· Single pannier bag

Height (mm): 150
ICONS: Polyester 650D
Model identifier number: BA-W41
Length (mm): 400
Color / Decor: black
Mounting: other
Volume (l): 19.2 - 19.2
Waterproof and / or splashproof: Yes
Weight: 932 gram
Width (mm): 320
Lasa un comentariu sau pune o intrebare
Ai întrebări?
Contacteaza-ne!
LUNI-VINERI 09:00 - 18:00
SAMBATA 09:00 - 15:00
intrebari@marosbike.ro
MarosBike.ro lucrează în permanenţă asupra acurateţei informaţiilor din acestă prezentare. Rareori acestea pot conţine anumite inadvertenţe: fotografia este cu caracter informativ iar unele specificaţii pot fi modificate de catre producător fără preaviz sau pot conţine erori de operare. Pentru anumite clarificări vă rugăm să ne contactaţi.