Produsul a fost adaugat in cos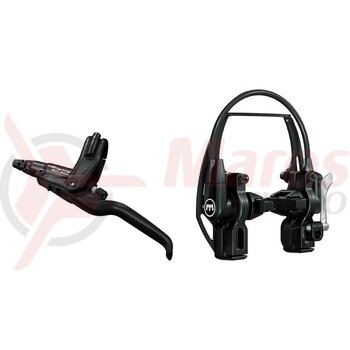 HS22 black, 3-finger lever blade, EVO2 mount, suitable for mounting left or right, 2,000 mm tubing length, single brake (PU = 1 piec e)
COD PRODUS: 2700845
450.00 Lei
HS22 black, 3-finger lever blade, EVO2 mount, suitable for mounting left or right, 2,000 mm tubing length, single brake (PU = 1 piec e)
450.00
450.00 Lei
pretul include TVA
In stock
In stoc
Livrare imediata
HS22 - EVO2
Braking performance is the core competence of every HS brake - the 14 mm master cylinder and the 100% reliable MAGURA Royal Blood mineral oil fluid guarantee the powerful braking and optimal modulation under all and any conditions for which MAGURA hydraulic rim brakes have repeatedly and deservedly won top marks in tests. Turbo Pad Adjusters (TPA) make adjusting for pad wear quick and easy, with no tools required.
Fully hydraulic Rim Brake
Closed system without reservoir
Easy to mount with the EVO2 system
Carbotecture® master
Weight: 480 g
Colors: black
Versions: 3-Finger lever blade
Warranty: MAGURA offers a five-year leak proof guarantee for all MAGURA brake masters and brake calipers / cylinders, provided they are exclusively equipped with original MAGURA Spare Parts.
MADE IN GERMANY.
DESIGNED AND ENGINEERED IN GERMANY.
Mounting type
Cantisocket
Application
eMobility
City
Trekking
Tour
Mounting site
Front wheel
Rear wheel
Brake type
Rim brakes
Lever blade type
3-finger lever blade
Tubing connection
Straight brake tube exit
Brake pad type
Standard brake pad
Material of lever blade
Carbotecture®
PU
1
Mounting method
EVO2
Material housing
Carbotecture®
Reach Adjust
Tolless
Gearshift compatibility
Shimano I-Spec I+II
SRAM Trigger
Flip Flop
Yes
Tubing length
2,000 mm
Model year
2016
Weight
480 g
Color
Black
Lasa un comentariu sau pune o intrebare
Ai întrebări?
Contacteaza-ne!
LUNI-VINERI 09:00 - 19:00
SAMBATA 09:00 - 15:00
intrebari@marosbike.ro
MarosBike.ro lucrează în permanenţă asupra acurateţei informaţiilor din acestă prezentare. Rareori acestea pot conţine anumite inadvertenţe: fotografia este cu caracter informativ iar unele specificaţii pot fi modificate de catre producător fără preaviz sau pot conţine erori de operare. Pentru anuminte clarificări vă rugăm să ne contactaţi.