Produsul a fost adaugat in cos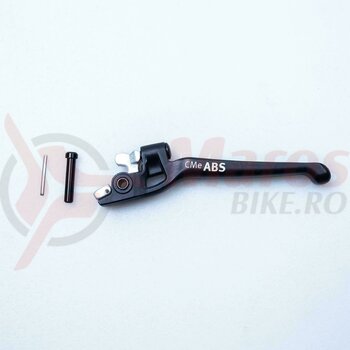 Lever blade CMe ABS, 4-finger aluminum lever with ball-end, black, (PU = 1 piece)
COD PRODUS: 2701591
158.00 Lei
Lever blade CMe ABS, 4-finger aluminum lever with ball-end, black, (PU = 1 piece)
158.00 Lei
pretul include TVA
To order
La comanda
Livrare 1-33 zile
CMe ABS rear brake
4-finger aluminum lever with ball-end
The MAGURA CMe 5 is specially designed for commuting and cargo bikes. The robust master with its axial design is inconspicuous, matching the practical appearance of the urban bike – and the CMe 5's braking power can be perfectly modulated.
The viewing window of the large expansion reservoir also makes handling much easier in continuous use.
The necessary braking power and stability for the CMe5 is provided by the proven MAGURA MT brake callipers.
Developed in cooperation with Bosch eBike, the MAGURA CMe brake system fulfills all the basic requirements of the first eBike ABS, which uses a 4-piston brake calliper at the front and a 2-piston model at the rear.
Model year: 2020
Tubing length: 2,200 mm
Pistons: 2
Material housing: aluminium
Mounting on handlebars: right side
FlipFlop: No
Lever blade: 4-finger aluminium lever blade with ball-end
Reach Adjust: T25 tool
Color: black
Recommended rotor: Storm HC / CL; MDR-C / CL; MDR-P
Scope of delivery: Single brake right or left (no FlipFlop), a manual and a bag for accessories
5 YEARS GUARANTEE:
MAGURA offers a five-year leak proof guarantee for all MAGURA brake masters and brake calipers / cylinders, provided they are exclusively equipped with original MAGURA Spare Parts.
Mounting type
Postmount
Application
eMobility
Mounting site
Rear wheel
Lever blade type
4-finger lever blade ball-end
Tubing connection
Rotatable tube connection
Brake pad type
Performance
8.P
Material of lever blade
Aluminium
PU
1
ABE
No
Flip Flop
No
Tubing length
2,200 mm
Model year
2020
Pistons
2 pistons
Material
Aluminium
Mounting side
Right
Color
Black
Lasa un comentariu sau pune o intrebare
Ai întrebări?
Contacteaza-ne!
LUNI-VINERI 09:00 - 18:00
SAMBATA 09:00 - 15:00
intrebari@marosbike.ro
MarosBike.ro lucrează în permanenţă asupra acurateţei informaţiilor din acestă prezentare. Rareori acestea pot conţine anumite inadvertenţe: fotografia este cu caracter informativ iar unele specificaţii pot fi modificate de catre producător fără preaviz sau pot conţine erori de operare. Pentru anumite clarificări vă rugăm să ne contactaţi.