Produsul a fost adaugat in cos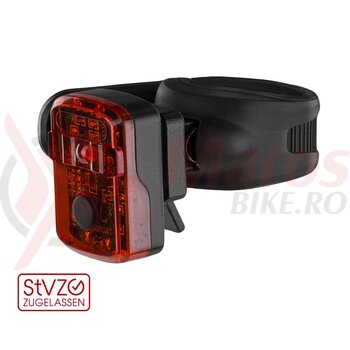 Lumina spate Kellys Proximo USB
COD PRODUS: KLS59628
85.00 Lei
Lumina spate Kellys Proximo USB
85.00 Lei
pretul include TVA
In stock
In stoc
Livrare imediata
Lumina spate Kellys Proximo USB
PROXIMO
USB RECHARGEABLE REAR BICYCLE LIGHT
Tiny and versatile, powerful and rechargeable. Press the button to start a powerful LED under glows thoroughly, so the light turns to visible radiant spot in the dark. You will get seen from a wide angle, but a small lens still focuses a beam to the far, towards the traffic approaching from behind. Thanks to its versatility of mounts varieties you can fasten it almost anywhere on bike, carrier, bag, or your backpack. That is why KLS PROXIMO becomes a close companion for your safety, no matter what type of cycling venture you prefer.
Wide angle of light radiation ensures visibility from the sides

Optical lens concentrates light to a cone directly to oncoming traffic behind, to be visible better from afar

Flexible rubber belt allows light to be attached wide range of pipes and straps

Bracket with ratchet allows light be tilted horizontally and rotated ±90 it allows you to align it correctly no matter on which part of bike is mounted

You can re-charge this light by using Micro USB wire anytime, and don't have to buy any more batteries. Besides that – you are also protecting nature

Long lasting battery allows you to charge it up at least 500 without significant capacity drop

Complies with German Road Traffic Regulations – StVZO
DETAILS
Lighting output: 5lm
Source of light: 1x LED
Functions: 100%
Battery lifetime:3 hrs (100%)
Battery indicator: Orange (24-5%), Flashing Orange (<5%)
Battery type: Li-pol 3.7V 240mAh
Charging time: 1.5hrs
IPX 4 (Water resistant)
INCLUDES
2x AA Batteries
User manual
COMPATIBILITY
All common shapes and sizes of seatpost
Lasa un comentariu sau pune o intrebare
Ai întrebări?
Contacteaza-ne!
LUNI-VINERI 09:00 - 20:00
SAMBATA 09:00 - 15:00
intrebari@marosbike.ro
MarosBike.ro lucrează în permanenţă asupra acurateţei informaţiilor din acestă prezentare. Rareori acestea pot conţine anumite inadvertenţe: fotografia este cu caracter informativ iar unele specificaţii pot fi modificate de catre producător fără preaviz sau pot conţine erori de operare. Pentru anumite clarificări vă rugăm să ne contactaţi.