Produsul a fost adaugat in cos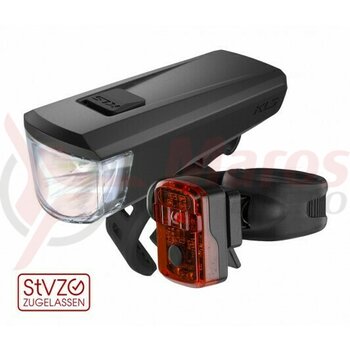 Set far Kellys Noble USB
COD PRODUS: KLS59665
144.00 Lei
Set far Kellys Noble USB
180.00 Lei
144.00 Lei
pretul include TVA
In stock
In stoc
Livrare imediata
Set far Kellys Noble USB
KLS NOBLE Set is a basic set of USB rechargeable lights, which has everything you need from a bicycle light. Front light with extra-wide lens brightens up well everything in front of you, while rear light alerts all other drivers about your presence – so you can be safe.
• Extra-wide lens brightens up the areas on the sides and directly in front of the bike. This helps a lot when maneuvering through complicated terrain – because it shines "into the turn". It also brightens up obstacles which are just in front of the bike and which needs to be driven around very carefully. Hi-beam in the center area effectively brightens object in far distance. The light beam is "cut from the top" – so it won't blind oncoming traffic
• Front light is easy to mount using the flexible silicone ergo-strap, which is 360° adjustable, so it can be easily mounted to almost anything. This strap also has a wider platform which improves the contact with handlebars and keeps the light in stable position during rough shocks or long-time vibrations
• Front light is protected against unintended turning ON/OFF in your backpack – press the button 2x to turn it ON, press-and-hold for turning OFF
• Optical lens concentrates light to a cone directly to oncoming traffic behind, to be visible better from afar
• You can re-charge both lights by using Micro USB wire anytime, and don't have to buy any more batteries. Besides that – you are also protecting nature
• Long lasting batteries allows you to charge it up at least 500 without significant capacity drop
• Both lights comply with German Road Traffic Regulations – StVZO
DETAILS OF FRONT LIGHT
Lighting output: 50 lm
Source of light: 1x LED
Functions: 100%, 50%
Battery lifetime: 3,3hrs (100%), 6,6hrs (50%)
Battery indicator: Off (100-25%), Red (24-5%), Flashing Red (<5%)
Charging time:
Battery type: 18650 Li-ion 3,7 V 1300 mAh
IPX 4 (Water resistant)
DETAILS OF REAR LIGHT
Lighting output: 5lm
Source of light: 1x LED
Functions: 100%
Battery lifetime: 3hrs (100%)
Battery indicator: Orange (24-5%), Flashing Orange (<5%)
Battery type: Li-pol 3.7V 240mAh
Charging time: 1.5hrs
IPX 4 (Water resistant)
COMPATIBILITY
All common sizes and shapes of handlebars and seatpost
Lasa un comentariu sau pune o intrebare
Ai întrebări?
Contacteaza-ne!
LUNI-VINERI 09:00 - 18:00
SAMBATA 09:00 - 15:00
intrebari@marosbike.ro
MarosBike.ro lucrează în permanenţă asupra acurateţei informaţiilor din acestă prezentare. Rareori acestea pot conţine anumite inadvertenţe: fotografia este cu caracter informativ iar unele specificaţii pot fi modificate de catre producător fără preaviz sau pot conţine erori de operare. Pentru anumite clarificări vă rugăm să ne contactaţi.