Produsul a fost adaugat in cos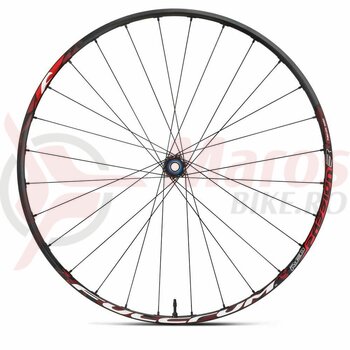 Roata fata Fulcrum RED PASSION 3 29 TR Disc AFS Ax Boost 15x110mm Negru
COD PRODUS: RN39-17DFBAFS
980.00 Lei
Roata fata Fulcrum RED PASSION 3 29 TR Disc AFS Ax Boost 15x110mm Negru
Cod produs: RN39-17DFBAFS
980.00 Lei
pretul include TVA
To order
La comanda
Livrare 1-8 zile
Red Passion 3 29 Never known to compromise, it sets the bar in terms of steering precision for such a light wheel. Red Passion 3 is a very special wheel. All its components were designed and sized in synergy. So materials, dimensions and tensions work together for maximum harmony. This is what enables Red Passion 3 to make the difference when it comes to racing and fighting for victory – its natural environment. tyre type Tubeless ready tyre size 29" discipline Cross Country / Marathon ASTM category 3 weight boost 1535 g (pereche) rim material Aluminum rim material details Aluminum, welded joint rim height Front and rear: 16 mm rim width 24 mm inner rim width(channel) 21 mm tyre width From 2.0" to 2.5 braking system Disc brake front wheel spokes 28, Left 14 - Right 14 rear wheel spokes28, Left 14 - Right 14 spokes: material Stainless steel spokes: profile Rounded, straight pull nipples Aluminum front hub Aluminum, Aluminum flanges bearings Sealed cartridge bearings others Aluminum Axle WEIGHT LIMIT 90 kg (Cyclist) FWB Version HG11 The rim The aluminum mtb rims have an ultra low, milled profile to keep the lowest peripheral weight possible, making the wheel extremely reactive. This specific shape also provides excellent impact resistance. Asymmetric: the rim shape has been studied to improve the tensions, balancing the forces coming from the brakes and cassette. Tubeless ready: over the time tubeless has been established as the preferred solution for the high-end wheels, as it ensures better handling and protection against punctures. Red Passion 3 is ready for the transformation: thanks to a special contoured and reinforced rim profile that adheres more easily to the tire, while fitting is easy and safe. The hubs The hub bodies are made entirely of aluminum which combined with an oversized axle enhances both power transfer and reactivity. Sealed bearing help with stand the effects of use over time. 20mm axle: extremely lightweight – very high rigidity. Improves steering precision. Adaptable A solution that allows the mtb wheels to adapt to different standards on the market in a fast and simple way. Different adapters can be fitted in a few easy steps to allow the mtb wheel to be fitted to any frame standard. Spokes and nipples Aluminum nipples: make it possible to reduce the peripheral mass of the mtb wheels to the minimum, thus increasing its reactivity. Stainless steel spokes. RDB™ Rim Dynamic Balance The concept is simple and elegant: balance the weight of the gasket, with an item of similar weight placed on the exact opposite side. AFS axle system™ The Axial Fixing System™ is the solution developed by Fulcrum® to fix the disc brake to the hub. The constraint granted by the butt area of the release mechanism, greater than in familiar standard ones, makes it possible to obtain greater structural rigidity and therefore more precise and powerful braking. F.I.C. Fulcrum Identification Card
- 100% HANDMADE QUALITY Right from its inception Fulcrum® has been marked by feature that continues to this day: that is to design, prototype and industrialise all the wheels characterised by the red "F". Indeed these take shape inside of the R&D, the leading-edge department that represents the beating heart of the Italian company. Every single component of the wheel, the materials chosen and the technologies applied are the tangible result of the effort that Fulcrum® makes every day to give you maximum performance and reliability.
Specificatii
Tip: Fata
Diamentru: 29"
Tip ax: 15mm
Frana: Disc Center Lock
Lasa un comentariu sau pune o intrebare
Ai întrebări?
Contacteaza-ne!
LUNI-VINERI 09:00 - 20:00
SAMBATA 09:00 - 15:00
intrebari@marosbike.ro
MarosBike.ro lucrează în permanenţă asupra acurateţei informaţiilor din acestă prezentare. Rareori acestea pot conţine anumite inadvertenţe: fotografia este cu caracter informativ iar unele specificaţii pot fi modificate de catre producător fără preaviz sau pot conţine erori de operare. Pentru anumite clarificări vă rugăm să ne contactaţi.