Produsul a fost adaugat in cos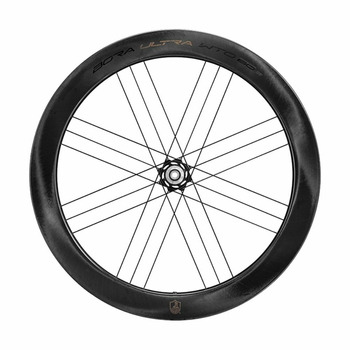 Set roti Bora Ultra WTO DB 60 2WF DCS WH21-BUWP60DCSN3W,N3W-FREEH.BOD.,FW+RW
COD PRODUS: 2651428834
15971.00 Lei
Set roti Bora Ultra WTO DB 60 2WF DCS WH21-BUWP60DCSN3W,N3W-FREEH.BOD.,FW+RW
21295.00 Lei
15971.00 Lei
pretul include TVA
To order
La comanda
Livrare 1-19 zile
Set roti Bora Ultra WTO DB 60 2WF DCS WH21-BUWP60DCSN3W,N3W-FREEH.BOD.,FW+RW
The Bora Ultra WTO 60 is designed to turn**every watt into pure speed**. Its exceptionally low weight and efficiency ensure that you not only finish in the top group, but also have the right thrust for victory. The**wind tunnel optimised profile** of its 60mm high carbon rim promises precise and safe manoeuvrability in all conditions. Brand new aerodynamic spokes with hidden nipples reduce air resistance, while CULT ceramic bearings minimise friction. The carbon hub body with the special Campagnolo design is firmly attached to an aluminium flange and the integrated spoke seats ensure perfect alignment. As with all Bora Ultra wheels, the rim channel is not drilled, which allows for easy tubeless mounting and significantly increases the rim's**intactness and** **torsional stiffness** . It is a sprinter's dream and ideal for any time trial. The 2-way-fit rim is designed for tubeless, tubeless ready or wired tyres from 23mm width, but is aerodynamically optimised for 25mm tyres.
Campagnolo
Article id: 2651428834
Secondary article number: WH21-BUWP60DCSN3W
EAN-code: 8053340457869
Other
Axle diameter front (mm): 12
Axle diameter rear (mm): 12
Axle front: thru-axle
Axle rear: thru-axle
Brake type: Disc centre lock
Brand: Campagnolo
Color Spokes: black
ETRTO diameter (mm): 622
Hub kind: standard / cassette hub
Hub kind front: standard
Hub kind rear: cassette hub
Hub manufacturer: Campagnolo S.R.L.
Installation dimension front (mm): 100
Installation dimension rear (mm): 142
Color / Decor: black
Material Hub: aluminium carbon
Number of holes front: 24
Number of holes rear: 24
Rim height (mm): 60
Rim inner width (mm): 19
Rim manufacturer: Campagnolo S.R.L.
Rim name: 2-way-fit rim
Rim type: hollow rim
Size: 28
Spoke type: bladed spokes
Type: set
Tyre type: wired and folding tyres, tubeless ready, tubeless
Manufacturer article number: WH21-BUWP60DCSN3W
Valve hole: 6.5mm
Weight: 1.469 kg
Lasa un comentariu sau pune o intrebare
Ai întrebări?
Contacteaza-ne!
LUNI-VINERI 09:00 - 18:00
SAMBATA 09:00 - 15:00
intrebari@marosbike.ro
MarosBike.ro lucrează în permanenţă asupra acurateţei informaţiilor din acestă prezentare. Rareori acestea pot conţine anumite inadvertenţe: fotografia este cu caracter informativ iar unele specificaţii pot fi modificate de catre producător fără preaviz sau pot conţine erori de operare. Pentru anumite clarificări vă rugăm să ne contactaţi.