Produsul a fost adaugat in cos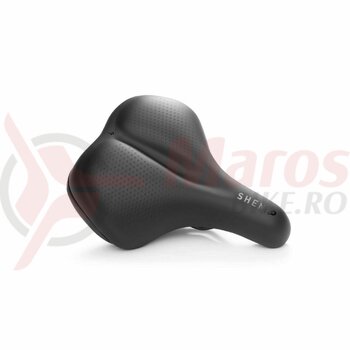 Sa Natural Fit Saddle Shen Ponso Black 265 x 200 mm
COD PRODUS: 11565R
499.00 Lei
Sa Natural Fit Saddle Shen Ponso Black 265 x 200 mm
499.00 Lei
pretul include TVA
In stock
In stoc
Livrare imediata
Sa Natural Fit Saddle Shen Ponso Black 265 x 200 mm
Get fit while you sit, with PONSO! It's no accident that the innovative shell constructed with PONSO technology is amazing at relieving pressure and is optimised for an upright riding position. Dual-foam padding constructed from PONSO-FOAM and PU foam take the pain out of long tours and turn them into a relaxing and fun experience. Including Y-Shade technology – a comfortable Y-shaped upper foam layer – to give your tailbone more space and relieve pressure on the perineum. This upper layer constructed from PONSO-Foam is designed to follow the natural movements of the sit bones when pedalling even under compression from the rider's weight. The result: reduced friction around the sit bones and muscles. The PU foam layer supports the pelvic bones and spreads the pressure. Even more pressure relief comes courtesy of the special Hammock Cuts – special cutouts that cradle the sit bones so it feels like you're sitting in a hammock. Pressure is shifted off the sit bones and onto the less sensitive surrounding weight-bearing muscles. Shock-absorbing rail pockets reduce vibrations travelling up from the ground. And it's all wrapped up in a durable, comfortable, high-quality PU covering. With this level of comfort, there's nothing stopping you now!
pressure-relieving shell with PONSO technology;
SOFT dual-foam padding with Y-Shade technology;
Natural Fit ergo-relief-channel;
Hammock Cuts for extra pressure relief; steel rails;
shock-absorber rail pockets;
high-quality PU covering;
integrated saddle adapter mount;
optimised for Upright position (Saddle Finder A)
size (LxW), Regular (265 x 200 mm), Large (265 x 220 mm)
material steel, GF-reinforced nylon, PonSo foam, memory foam
weight 600 g (regular)
max. load capacity 100 kg
| | |
| --- | --- |
| Tip: | Confort |
| Model: | Unisex |
| Decupaj: | Nu |
Lasa un comentariu sau pune o intrebare
Ai întrebări?
Contacteaza-ne!
LUNI-VINERI 09:00 - 20:00
SAMBATA 09:00 - 15:00
intrebari@marosbike.ro
MarosBike.ro lucrează în permanenţă asupra acurateţei informaţiilor din acestă prezentare. Rareori acestea pot conţine anumite inadvertenţe: fotografia este cu caracter informativ iar unele specificaţii pot fi modificate de catre producător fără preaviz sau pot conţine erori de operare. Pentru anumite clarificări vă rugăm să ne contactaţi.