Produsul a fost adaugat in cos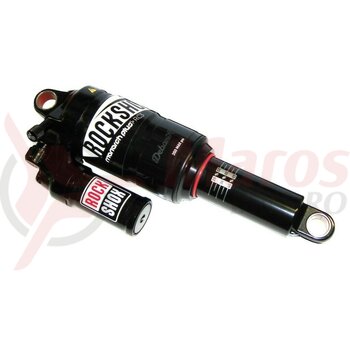 Suspensie spate RW Monarch Plus RC3 BLK, 200X51/7.875x2.0", LReb/LComp, DA
COD PRODUS: 2055910195
2457.00 Lei
Suspensie spate RW Monarch Plus RC3 BLK, 200X51/7.875x2.0", LReb/LComp, DA
3275.00 Lei
2457.00 Lei
pretul include TVA
To order
La comanda
Livrare 1-26 zile
ROCKSHOX damper Monarch Plus RC3 DebonAir with special tuning black
The Monarch Plus RC3 DebonAir is an all-rounder with a low weight. Due to its large volume of air, it achieves a unique response behavior and gives your bike sovereignty in any terrain.

The damper can be adapted to your own preferences using a variety of setting options. The spring characteristic can be adjusted via the air pressure of the positive and negative chambers, with both chambers being filled via a valve (Solo Air). The rebound stage (DFA) is also adjustable and also has a two-stage design. This means that the damper reacts extremely quickly to small impacts while larger bumps or even kick-offs are more strongly dampened. This effectively minimizes bobbing when pedaling out of the saddle, while the rear wheel always maintains ground contact with small bumps (rapid recovery).


Dual flow adjust

DFA uses independent dual damping circuits to effectively absorb strong shocks and small bumps.


Rapid recovery

A special shim stack inside the damper optimizes the function of many hits in quick succession. The damper returns to its starting position more quickly - the ground contact is increased and the notorious sagging is prevented.


RCT3

The adjustment of the damping has a platform that can be regulated in 3 stages.
* Open, the damper reacts sensitively to every unevenness and thus offers the best traction on rough descents
* Platform, the damper only triggers when larger impacts occur. Rocking in the saddle is suppressed
* Closed, the damper is almost completely blocked and allows the effective use of force
hard climbs or flat terrain.


DebonAir

An increase in the volume of the positive and negative air chamber results in a more linear, softer response and a 30% lower breakaway torque compared to its predecessor.


Bottomless rings

Using spacers that can be inserted in the air chamber, it is possible to influence the spring characteristic, thereby achieving a smoother response with a higher end progression. The spacers are not included, but are part of our range.


Attenuation mark

The negative spring deflection SAG, in percent, based on the total stroke of the spring element was lasered to simplify the coordination of the spring elements.


Technical specifications:

Application: All Mountain, Enduro
Spring: "Solo Air" negative and positive air chamber adjustable via a Schrader valve
Damping compression level: adjustable via 3-level floodgate (open to blocked), mid compression
Rebound damping: "Dual Flow" two-stage rebound, freely adjustable, mid rebound
Material shaft / housing: forged 7075 aluminum
Extra: say indicator
Color: Black

Weight: 355 g at a length of 216 mm (without sockets, manufacturer information)
Lasa un comentariu sau pune o intrebare
Ai întrebări?
Contacteaza-ne!
LUNI-VINERI 09:00 - 18:00
SAMBATA 09:00 - 15:00
intrebari@marosbike.ro
MarosBike.ro lucrează în permanenţă asupra acurateţei informaţiilor din acestă prezentare. Rareori acestea pot conţine anumite inadvertenţe: fotografia este cu caracter informativ iar unele specificaţii pot fi modificate de catre producător fără preaviz sau pot conţine erori de operare. Pentru anumite clarificări vă rugăm să ne contactaţi.